From the creator of hot selling ultralight fishing rods "Leebass" and "Sengat", Kanicen Nix brings you a new ultralight rod with ATTITUDE. Customized design rod specialized for ultralight fishing anglers. Every ultralight rod created by Kanicen Nix is always unique and with a good purpose for better growth of ultralight fishing industry.
Kanicen Nix – Sailang. The Game of Attitude.
"The Game of Attitude" is the idea behind the birth of Sailang. We want more passion in the game of fishing. Nowadays, complicated feelings and mixed of emotions is channel to this beautiful hobby. And we want to change that. Let's go back and feel the joy of fishing with friends just like the good old days. Its pure fun and its pure fishing with lots of smiles and fun.
Just what do we created actually? A rod that gives you the attitude whenever you go fishing. Put aside all unnecessary matters and give your all when fishing. Express yourself to the game and bring back the attitude it should have!
IKAN KAU! IKAN AKU! referred as YOUR FISH! MY FISH! Understand the real meaning and bring back our old day's memories back to life. Bring back the smiles and fun.
CUSTOM PREMIUM ROD FOR ALL-ROUNDER ULTRALIGHT GAME ANGLERS
THE FEATURES
TYPE
Sailang is a bass type ultralight fishing rod and created for an ultralight angler that want all-rounder rod for fresh water game. We maintained the strength of bass type rod but at the same time we tuned the rod for those enjoying trout game. So, it's a combination of different ideas into one to make the rod more versatile. We have both spinning for a true ultralight game experience and bait casting for those prefer finesse game.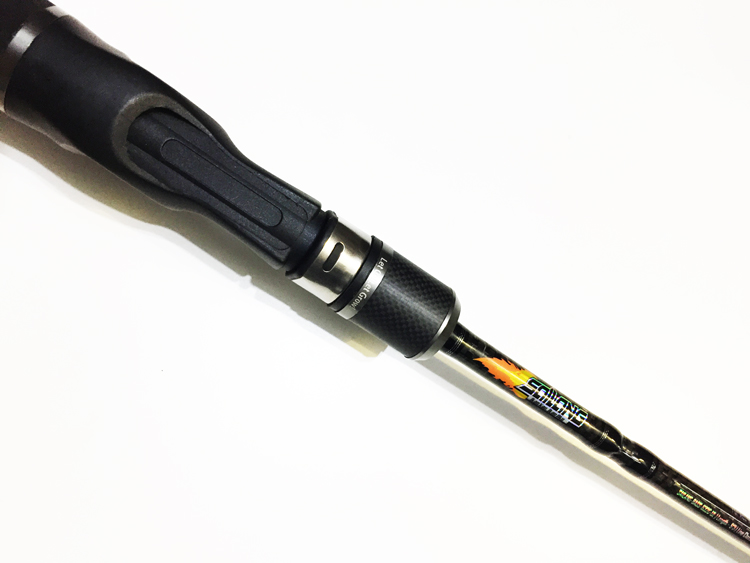 BLANK TECHNOLOGY
The blank is wrapped to enhance the strength with sensitivity to tolerance for a bass type rod. It pursued a thorough balance for easy smooth casting and getting maximum vibration and able to absorb high pressure during a fight. The ultralight angler will experience solid pressure regardless the size of the fish. These features will assist you stealing your friend fish and enjoy the moment by saying "Your Fish! My Fish!
LENGTH / LURE WEIGHT / POUNDAGE / ACTION
Only come with one length of 6'6 for both Spinning and Bait Casting. Although is has been designed as a Bass game rod, to accommodate for all-rounder ultralight fishing experience the rod has been tuned as effectively for trout game and able to cast lightweight jighead from 1g up to 7g or operating hard baits and soft baits lures with high sensitivity and high response, and finished it differently from our two previous models.
With the line recommendation poundage of 2-6lbs and Fast Action rod it will add extra benefits for anglers that want to enjoy both soft baits and hard baits game. Sailang is a technical model that emphasizes on operability and castability.
When you face the situation that you need to cast better distance, we recommend you to choose this Kanicen Nix – Sailang.
You can cast up to 7g rig comfortably and keep large jungle perch, peacock bass or snakeheads under control at your will. Thanks to massive power of wrapped butt section with high-carbon technology from TORAY.
On the other hand, tip section with great sensitiveness make you sense even micro bite of fish. Of course you can cast and manipulate sinker, plug or metal jig without any stress. The casting of lures has been improved with a sharper casting feel. It's your way to control.
GUIDES / HANDLE / BUTT / ACCESSORIES / THEME
The theme is based on "bad boys" image with silver and smoke accessories and flat matt blank finishing which cover almost 3/4 of the rod. The rod image represent how naughty we going to be during a fishing session with friends – Your Fish! My Fish!
Since this will be all-rounder game rod we use EVA finishing to reduce the weight of the rod. Both spinning and bait casting comes with customized split reel seat with rear grip and butt EVA and finished it with slim high-grade carbon fore grip give extra premium and sexy look that cannot be resisted. This whole handle section is lighter that allow for ease cast and smooth grip.
High grade KR-Concept Guides are used with neat finish. The sizes and the types of the guides have been selected based on the target fish. We balanced and matched it with the whole rod idea and purposes. We combined the best accessories that value for your investment.
Compared to the previous model, this will become your ultimate affordable model as an all-rounder bass game rod.
THE GAME DIMENSION
With the idea of all-rounder game the rod technology has been designed to accommodate anglers into more exciting casting experience. With fast action and great strength the idea of catching the fish in more challenging area is something we encourage you to try. This will push you to experience new level of extreme game for maximum satisfaction. The intention is to bring you into different dimension of ultralight game. The whole rod finished with proper accessories with solid balance to allow you enjoy challenging fishing session.
Top water and crank lures can be managed at ease and for fan of soft baits this rod able to give you the sensitivity you need. You can definitely feel the baits movements, we don't compromise on any ultralight rod features should have.
THE PROCESS / THE IDEA / THE FUTURE
"SAILANG" has been created for all-rounder game. It took us more than 8 months to really produce the actual rod. It took many brains to make it works. Failure after failure leads us to a more complete rod. Our determination is the key to produce a good and affordable rod.
The "Game of Attitude" is the idea where we felt able to educate anglers to have more fun fishing routine while respecting each other. Fishing is pure clean and should be fun with lots of sweet memories. We intend to bring back the memories and be a Pro Angler with ethic.
BUY / CUSTOMER SUPPORT
The best way to reach is at our Facebook Fan Page: Vist Our Facebook Page Here