Our latest creation exudes a sexy & elegant look with a purple color theme. The end result makes us feel this rod is more than a Limited Edition product, but rather a collectible item. We named our latest rod creation "SAKA", meaning "HERITAGE" upon translation. It symbolises a relic being passed on to the new generation.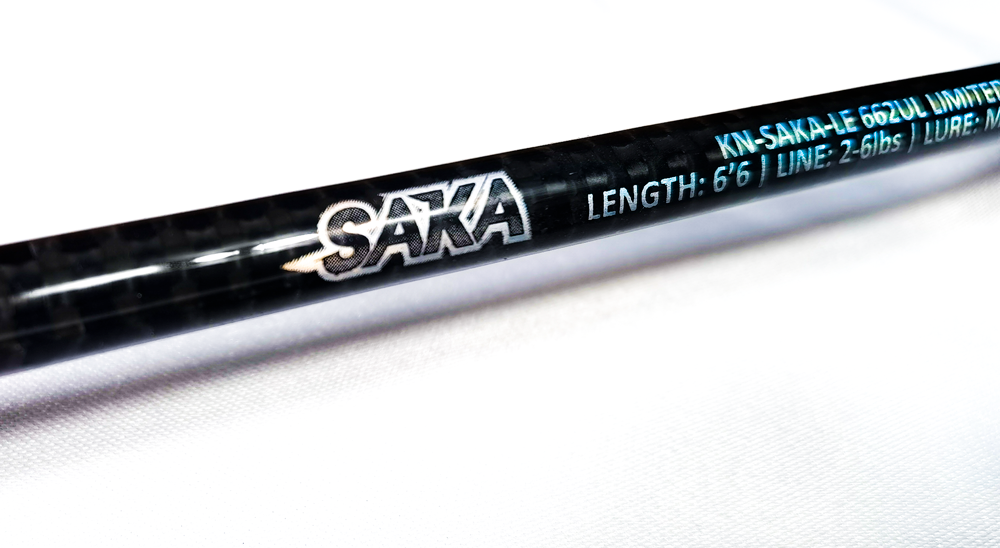 This SAKA ultralight fishing rod is proudly 100% completed and created locally during the lockdown due to COVID-19. It's a rod that specialises in bass fishing with capabilities of being a versatile all-rounder for any kinds of fishing game.
Only a total of 20 pcs of our new rods are produced with 2 pcs taken by the owner for showroom purposes, leaving the remaining 18 pcs up for grabs. Out of these 18 pcs, only 16 pcs of them are spinning and 2 pcs are bait casting rods. These exclusive rods are numbered from 1 to 18 and to further celebrate the quality and exclusivity of this product, owners can engrave their names on it to make it that much more special.
The rod is rated as a 2-6lbs with the length of 6'6 in length and is capable of handling at max capacity a 7g of lure. The blank is an upgraded version of our previous model with a wrapped modulus 24T carbon graphite to enhance the strength and is suitable, if not great for bass type fishing. The build quality and design enables anglers to feel even the finest vibrating sensations even when absorbing high pressure and from fish.
So, what do owners get from purchasing this new and exclusive beauty?
This exquisite product is assembled with the following accessories to align the idea of bass type fishing and the concept this rod is designed for.
American Tackle Apex G2 Seat (Spinning)
American Tackle X2 G2 Seat (BC)
American Tackle Deluxe Hook keeper (Black)
Korean SIC Grade K-Guides
High Density Purple Colour EVA
Purple Alum Decor Parts
KN Custom Butt Cap
What about the price?
The price is as below:
NO 1: BIDDING STARTS FROM RM1000.00
NO 2: RM1000.00
NO 3-5: RM900.00
NO 6-10: RM850.00
NO 11-18: RM800.00
The SAKA Idea
Kanicen Nix is known for creating specialized rods with subtle objectives in educating anglers to embrace ultralight angling. Each and every rod created is meant to educate anglers the importance of building character.
The purple theme associates with calm, stability, peace, mystery and wisdom. With that in mind the entire idea of "SAKA" is about AMBITION. Our ambition is about educating anglers on the importance of seeking knowledge and experience that develops within a specified society and this can be done by respecting everyone and appreciating friends while enjoying the hobby as it is. We learn from each other. And together, we grow as anglers with a more matured and broad mindset.