Stream fishing is getting popular in Southeast Region since the launched of Kaki Bako a rod made specially for stream game. Anglers today tend to dive into this game and taking efforts to understand important tools and accessories when walk-and-wade.
One of the most important accessories are a landing net. It comes in handy when you are trying to land a fish while standing in the river. And you need to make sure it is ready and easy to use when it counts.
SAUKK
Introducing "SAUKK" LIMITED EDITION, our exclusive handmade landing net made for stream fishing enthusiasts. A quality landing net is essential accessories to ensure you able to handle and land the fish safely.
MATERIALS
Handle: Metasequoia Tree Tumor
Frame: Beech Wood
Net Pocket: Polyester Mesh with Rubber Coating
The patterns on the landing net are like Birdseye wood. Each landing net having different patterns. So, you are not getting an identical landing net with others. The distinctive pattern that resembles tiny, swirling eyes disrupting the smooth lines of grain, somehow reminiscent of a burl make the landing net looks premium.
The landing net frame is made of Beech wood, a widely used hardwood in European countries due to its feature of hardness, wear-resistance, strength, and excellent bending capabilities.
WHAT YOU GET
SAUK is a floating landing net allows for anglers to practice proper catch and release. SAUKK is design especially for anglers who like wading and need a convenient, easy to carry with one-handed landing net.
A comfortable handle allows you to have a good grip when handling fish and with lanyard it prevents your landing net from floating away.
The landing net is deep enough to prevent from fish jumping out. The non-absorbent coating mesh always keep the rubber net dry, effectively prevent the fishhook from hooking the net pocket, and helps not to harm the fishes. This fine mesh is less resistant when dipping into fast waters. The size is simply perfect for catch and release. The black net is the same as the underwater background color. It does not scare the fish when used, it is gentle to the fish and does not confuse the fish.
SAUKK looks sturdy and has a large basket and hoop opening. The handle is design to suit the best length with our body size. It helps quickly attach the landing net to your backpack or vest for easy carrying. It is not long as it can poke your back or your body when you walk where it can fall out unexpectedly.
Apart from wading it is also suitable for bank fishing or using small craft like kayak or canoe. The compact size of the landing net allows for easy storage for small compartment like kayak or canoe. It is great for both kids and adults because it is easy to grip and user-friendly for your daily fishing.
Features
Handmade landing net
Engraved KN Logo
Engraved SAUKK Logo
Floating Landing Net
Black Mesh Polyester
Elastic Lanyard
Lightweight & Portable
Fully Leather Cover
Leather Lock Button (lock landing net handle)
Leather Bag Lock Button
Belt Insert
Specifications
Net Total Length: 38.4cm (15.1 inch)
Total Weight (with net): 139.5grams (4.9oz)
Hoop Size: 25 x 28cm (9.8 x 11 inch)
Net Depth: 28cm (11 inch)
Handle Length: 14cm (5.5 inch)
Frame Diameter: 1.8 x 0.7cm (0.7 x 0.27 inch)
Net Hole Size: 0.5 x 0.8cm (0.19 x 0.3 inch)
Net Hole Type: Hexagon
NOTE: ALL MEASUREMENTS ARE BASED ON OUR BEST ESTIMATION ONLY.
FULL-GRAIN LEATHER COVER
SAUKK also comes with an exclusive full-grain leather cover. It is the highest grade in leather materials. We engraved the leather cover with Kanicen Nix logo to make it look premium. The overall idea when we decided to build this cover is for storage purpose. It allows the angler to easily carry and store the landing net when wading. It is portable and secure since you can attach it to your belt or your bag.
Specifications
Net Total Length: 18.7 x 16.6cm (7.36 x 6.53 inch)
Total Weight: 84g (2.96oz)
Cover Hoop Size: 8 x 16.8cm (3.14 x 6.61 inch)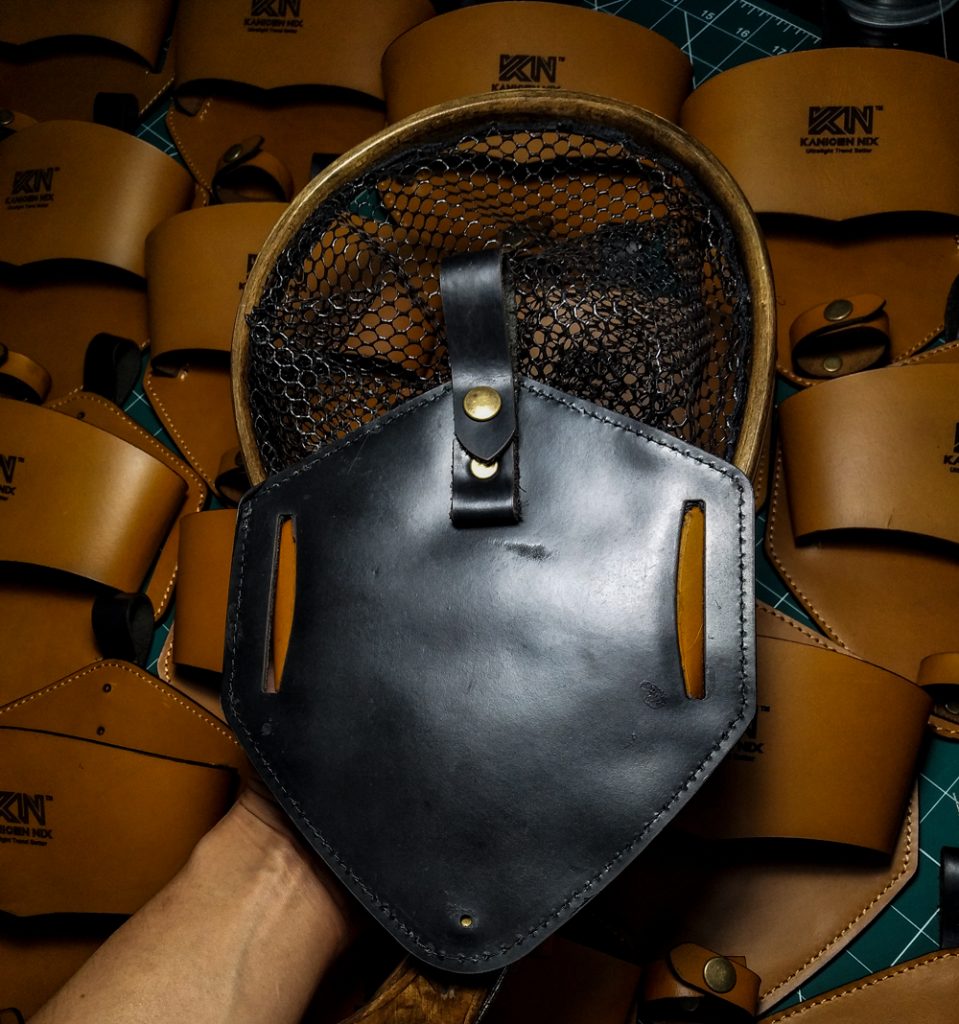 NOTE: ALL MEASUREMENTS ARE BASED ON OUR BEST ESTIMATION ONLY.
PERFECT FISHING NET
SAUKK is a perfect size landing net for your daily fishing. It comes with engraved fully leather cover to secure your landing net be it to your belt or your bag. We opt for solid and sturdy woods materials for both frame and handle. Making it durable for long time use, comfortable and easy to grip with great balance.
The mesh polyester net is excellent materials for fish friendly, for safe catch and release and never do harm to fish scales. The landing net size is perfect for landing trophy fish up to 25cm.
SAUKK is a smart choice if you are looking for convenient, lightweight, and portable landing net since its compact built and easy to carry and store.
QUALITY AND CLASSIC
We believe a good landing net should have a solid built no matter when you plan to use it. There is nothing worse than losing a fish because you do not carry your landing net or having a landing net that does not serve the purpose.
Frame and Handle Grip Materials
We opt for wooden frame and handle is simply because we want to give it more classic look and make sure it gives you smile when took a photo. A fish with wooden landing net just looks impressive in a photo. But of course, the idea to have a wooden frame is to make sure its floats.
Size
The size of a landing net is really an important feature for waders to suit the nature of the anglers fishing style. Our landing net is more like a common size for trout. Depending on your situation and your fishing style, the idea behind SAUKK landing net is to suit most Southeast Asia anglers since the streams are small. And commonly found fish are like baby Hampala, Copper Mahseer, Forest Snakehead, Rasbora, Spanner Barb and lot others with sizes range from 6cm to 25cm. As a rule of thumb, you should always do your best to protect the fish if you plan to let it go and let it grow. So, use one that suits your fish sizes around your place.
Handmade & Premium
Just like the size of the landing net, the prices can vary significantly. Our SAUKK is handmade with best wood materials. Engraved on both the landing net handle and the leather cover. The decision to use leather cover is to bring back the classic feel that gave a premium look and feel of the leather. So, it is not surprised this exclusive handmade landing net can easily reach three-digit price tags.
Getting a decent quality landing net is worth the investment. Normally, the higher the price the better overall quality you will get. This is because the craft man understands having a decent quality landing net is valuable tool for angler.
PRICE
PROMOTION PRICE 1ST 50: RM377.90
FREE: LIMITED EDITION ORANGE CAP.
PROMOTION PRICE NEXT 50: RM377.90
FREE: CLOTHES & ACCESSORIES (RANDOM).
PROMOTION PRICE NEXT 100: RM377.90
FREE: ACCESSORIES (RANDOM).
NOTE: SUBJECTED TO STOCK AVAILABILITY. ACCESSORIES ARE GIVEN RANDOMLY. NO EXCHANGE TO OTHER PRODUCT. LANDING NET AND CAP CAN'T BE POSTED TOGETHER DUE TO SIZE DIFFERENCES UNLESS PACK IN A BIG BOX THAT MAY INCUR ADDITIONAL COSTS. IF POSTED SEPARATELY IT WILL ALSO INCUR ADDITIONAL COSTS.
WHERE TO BUY
To order please visit our Facebook page at:
https://www.facebook.com/kanicennixmalaysia/
IMPORTANT NOTE: All pictures shown are for illustration purpose only. Actual product may vary due to product enhancement. Due to differences in monitors, colors of products may also appear different to those shown on the site.
BAHASA MELAYU VERSION
Pancingan aliran jeram semakin popular di Asia Tenggara sejak pelancaran joran Kaki Bako yang dibuat khas untuk pancingan aliran jeram. Pemancing hari ini cenderung untuk menyelami keseronokkan pancingan ini dan berusaha untuk memahami peralatan dan aksesori yang penting semasa melakukakn aktiviti meredah tebing dan meranduk air.
Salah satu aksesori yang paling penting ialah tangguk yang digunakan untuk menyauk ikan. Ia amat berguna apabila anda cuba mendaratkan ikan sama ada anda berdiri di dalam atau pun di tebing sungai. Dan yang paling penting ialah anda perlu memastikan ia sedia dan mudah digunakan apabila ia diperlukan dengan segera.
SAUKK
Memperkenalkan "SAUKK" EDISI TERHAD, tangguk hasil buatan tangan eksklusif kami yang dibuat untuk penggemar pancingan aliran jeram. Tangguk pendaratan yang berkualiti adalah aksesori yang penting untuk memastikan anda dapat mengendalikan dan mendaratkan ikan dengan selamat.
BAHAN-BAHAN
Pemegang: Tumor Pokok Metasequoia
Bingkai: Kayu Beech
Jaring: Mesh Poliester dengan Salutan Getah
Corak pada tangguk adalah seperti kayu Birdseye. Setiap tangguk mempunyai corak yang berbeza. Jadi, anda akan mendapat tangguk yang mampunyai corak yang berbeza dengan orang lain. Corak yang menyerupai mata kecil berpusar yang kelihatan seperti mengganggu garis halus pada kayu dan kelihatan seperti kayu burl dimana ia menjadikan tangguk ini kelihatan premium.
Rangka tangguk ini diperbuat daripada kayu Beech, kayu keras yang digunakan secara meluas di negara Eropah kerana ciri kekerasan, ketahanan hasil dari penggunaan, kekuatan dan keupayaan lenturan yang sangat baik.
APA YANG ANDA DAPAT
SAUKK ialah tangguk yang boleh terapung membolehkan pemancing mengamalkan sikap "tangkap dan lepas" dengan betul. Reka bentuk SAUKK dibuat khas untuk pemancing yang suka mengharung dan memerlukan alat yang selesa, mudah dibawa serta mudah digunakan dengan sebelah tangan.
Pemegang yang selesa membolehkan anda mempunyai cengkaman yang baik apabila mengendalikan ikan dan dengan tali keselamatan ia menghalang tangguk anda daripada hanyut.
Jaring tangguk ini cukup dalam untuk mengelakkan dari ikan melompat keluar. Salutan pada jaring tangguk ini tidak menyerap dan sentiasa memastikan jaring getah kering. Ia juga berkesan menghalang mata kail daripada tersangkut pada jaring dan membantu untuk tidak membahayakan ikan. Jaringnya yang halus ini mengurangkan rintangan apabila ia dicelup ke dalam air yang deras. Saiz tangguk ini sangat sesuai untuk pemancing yang mengamalkan "tangkap dan lepas". Jaring yang berwarna hitam adalah sama dengan warna latar belakang bawah air. Ia tidak menakutkan ikan apabila digunakan, ia lembut bagus untuk ikan dan ia juga tidak mengelirukan ikan dimana anda dapat mengurangkan tekanan pada ikan yang dipancing.
SAUKK ini kelihatan tegap dan mempunyai bukaan ruang dan gelung yang luas. Panjang pemegangnya pula direka untuk disesuaikan dengan saiz badan kita. Ia membantu dalam mengambil atau meletakkan tangguk dengan cepat pada beg galas, tali pinggang atau vest anda untuk mudah dibawa. Ia tidak panjang dimana ia boleh memberi tekanan (mencucuk) pada belakang atau badan apabila anda berjalan yang boleh mengakibatkan ia jatuh tanpa disedari.
Selain daripada menggunakannya semasa meranduk, ia juga sesuai untuk digunakan semasa memancing ditebing-tebing sungai atau menggunakan kayak atau sampan kecil. Saiz tangguk yang kecil memudahkan penyimpanan untuk ruang kecil seperti kayak atau kanu. Tangguk ini juga cukup bagus untuk kanak-kanak dan orang dewasa kerana ia mudah digenggam dan mesra pengguna untuk pancingan harian anda.
Ciri-Ciri
Tangguk Buatan Tangan
Logo KN Diukir
Logo SAUKK Diukir
Tangguk Yang Terapung
Poliester Jaring Hitam
Tali Keselamatan Elastik
Ringan dan Mudah Dibawa
Sarung Kulit
Butang Kunci Pemegang Kulit
Butang Kunci Beg Kulit
Sisipan Tali Pinggang
Spesifikasi
Jumlah Panjang Bersih: 38.4cm (15.1 inci)
Jumlah Berat (dengan bersih): 139.5gram (4.9oz)
Saiz Gelung: 25 x 28cm (9.8 x 11 inci)
Kedalaman Bersih: 28cm (11 inci)
Panjang Pemegang: 14cm (5.5 inci)
Diameter Bingkai: 1.8 x 0.7cm (0.7 x 0.27 inci)
Saiz Lubang Bersih: 0.5 x 0.8cm (0.19 x 0.3 inci)
Jenis Lubang Bersih: Heksagon
NOTA: SEMUA UKURAN ADALAH BERDASARKAN ANGGARAN TERBAIK KAMI SAHAJA. HASIL BUATAN TANGAN TIDAK BOLEH TEPAT SEPERTI BUATAN MESIN.
KULIT FULL-GRAIN
SAUKK juga dilengkapi dengan sarung kulit bijirin penuh yang eksklusif. Ia adalah gred tertinggi dalam bahan buatan kulit. Kami mengukir sarung kulit dengan logo Kanicen Nix untuk menjadikannya kelihatan premium. Idea keseluruhan apabila kami memutuskan untuk membuat sarung kulit ini adalah untuk tujuan penyimpanan. Ia membolehkan pemancing dengan mudah membawa dan menyimpan tangguk ini semasa meredah hutan dan mengharung air. Ia mudah alih dan selamat kerana anda boleh memasangkannya pada tali pinggang atau beg anda.
Spesifikasi
Jumlah Panjang Bersih: 18.7 x 16.6sm (7.36 x 6.53 inci)
Jumlah Berat: 84g (2.96oz)
Saiz Gelung Penutup: 8 x 16.8cm (3.14 x 6.61 inci)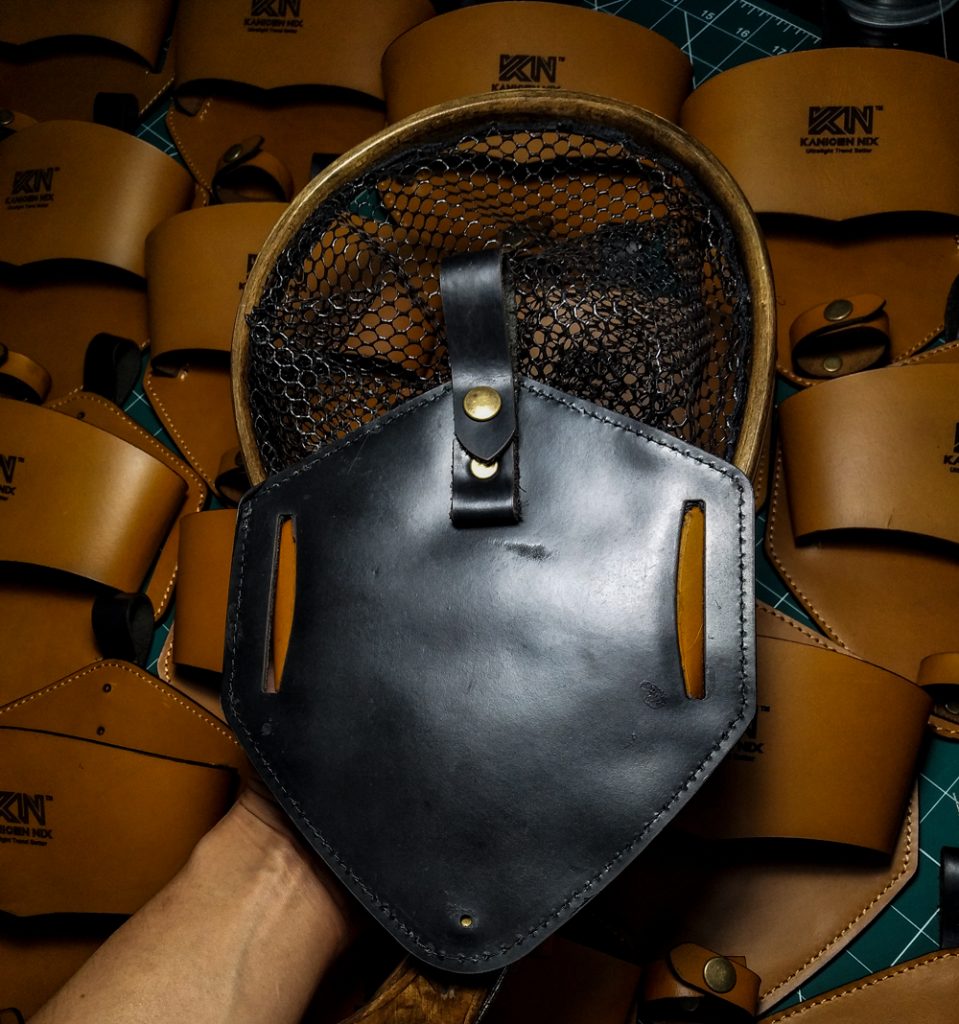 NOTA: SEMUA UKURAN ADALAH BERDASARKAN ANGGARAN TERBAIK KAMI SAHAJA. HASIL BUATAN TANGAN TIDAK BOLEH TEPAT SEPERTI BUATAN MESIN.
TANGGUK YANG SEMPURNA
SAUKK ialah tangguk pendaratan bersaiz sempurna untuk pancingan harian anda. Ia didatangkan dengan sarung kulit full-grain berukir untuk memastikan tangguk selamat sama ada dipakai pada tali pinggang atau beg galas anda. Kami memilih bahan kayu yang kuat dan kukuh untuk bingkai dan pemegang menjadikannya ia tahan lama untuk kegunaan lama, selesa dan mudah digenggam dengan keseimbangan yang tepat.
Jaring poliester adalah bahan yang sangat baik dan mesra ikan dalam melakukan aktiviti "tangkap dan lepas" yang selamat dan tidak membahayakan sisik ikan. Saiz jaring yang sesuai digunakan untuk anda mendaratkan ikan trofi.
SAUKK ialah pilihan bijak jika anda mencari tangguk yang cukup selesa dimana ia ringan, mudah alih dan direka untuk mudah disimpan.
KUALITI DAN KLASIK
Kami percaya tangguk yang baik harus mempunyai binaan yang kukuh tidak kira bila anda bercadang untuk menggunakannya. Tidak ada yang lebih sakit hati daripada kehilangan ikan kerana anda tidak membawa tangguk atau mempunyai tangguk yang tidak sesuai dengan tujuan.
Bahan-Bahan Bingkai dan Pemegang
Kami memilih bingkai dan pemegang kayu adalah semata-mata kerana kami ingin memberikannya rupa yang lebih klasik dan memastikan ia memberikan anda senyuman apabila mengambil gambar. Seekor ikan dengan tangguk kayu kelihatan mengagumkan dalam foto. Tetapi sudah tentu, idea untuk mempunyai bingkai kayu adalah untuk memastikan ia terapung.
Size
Saiz tangguk yang sesuai merupakan salah satu ciri yang paling penting bagi kaki randuk. Ia juga harus disesuaikan dengan gaya pemancing. Tangguk kami lebih seperti saiz biasa untuk trout. Bergantung pada situasi dan gaya pancingan anda, idea di sebalik rekaan SAUKK adalah sesuai dengan kebanyakan pemancing Asia Tenggara memandangkan sungainya yang kecil dan berbatu. Dan ikan yang biasa ditemui adalah seperti Sebarau, Tengas, Bujuk, Seluang, Baguh, dan pelbagai spesis lain dengan saiz diantara 6cm hingga 25cm. Sebagai peraturan (pemahaman asas), anda harus sentiasa melakukan yang terbaik untuk melindungi ikan jika anda bercadang untuk melepaskan dan membiarkannya membesar. Jadi, gunakan saiz tangguk yang sesuai dengan saiz ikan anda di sekitar tempat anda.
Buatan Tangan dan Premium
Sama seperti saiz dan kualiti tangguk, harga boleh berbeza dengan ketara. SAUKK kami adalah buatan tangan dengan bahan kayu terbaik. Diukirkan pada pemegang tangguk dan juga sarung kulit. Keputusan untuk menggunakan sarung kulit adalah untuk mengembalikan rasa klasik yang memberikan rupa dan rasa premium kulit. Jadi, tidak hairanlah tangguk buatan tangan eksklusif ini boleh mencapai tanda harga tiga ke empat angka dengan mudah.
Memiliki tangguk yang berkualiti adalah berbaloi dengan pelaburan. Biasanya, semakin tinggi harga, kualiti keseluruhan yang lebih baik anda akan dapat. Ini kerana pereka barang kraf tangan memahami memiliki tangguk yang berkualiti adalah salah satu aksesori yang berharga untuk pemancing.
HARGA
HARGA PROMOSI 50 UNIT PERTAMA: RM377.90
PERCUMA: CAP OREN TOPI LIMITED EDITION.
HARGA PROMOSI UNIT 51-100: RM377.90
PERCUMA: BAJU & AKSESORI (RANDOM).
HARGA PROMOSI UNIT 151-200: RM377.90
PERCUMA: AKSESORI (RANDOM).
NOTA: BARANG PERCUMA BERGANTUNG PADA STOK. AKSESORI DIBERI SECARA RANDOM. TIDAK BOLEH DITUKAR DENGAN BARANG LAIN. TANGGUK DAN TOPI TIDAK BOLEH DIPOS BERSAMA-SAMA KERANA PERBEZAAN SAIZ KECUALI DIBUNGKUSKAN DALAM KOTAK BESAR YANG AKAN ADA KOS TAMBAHAN. JIKA DIPOSKAN BERASINGAN JUGA AKAN ADA KOS TAMBAHAN.
PEMBELIAN
Untuk tempahan sila layari laman Facebook Instagram kami di:
https://www.facebook.com/kanicennixmalaysia/
NOTA PENTING: Semua gambar yang ditunjukkan adalah untuk tujuan ilustrasi sahaja. Produk sebenar mungkin berbeza disebabkan pengambaran. Ia juga boleh disebabkan oleh perbezaan dalam monitor, warna produk juga mungkin kelihatan berbeza dengan yang ditunjukkan di website.