INTRODUCTION
HALUS is made out of soft type 4x threads braid (100m & 300m). Our new product is produced based on countless hours of field testing to ensure it's release enables Ultralight Anglers to enjoy an enhanced experience through ultralight angling.
BRAIDED FISHING LINE
Constructed of 4 strands of PE braided fishing line is made of 4 threads of UHMWPE weaving materials. Hard, round, and yet soft, the new 4 weaves braid is knitted tightly to ensure the knots are of an optimum level. You will encounter minimal absorption of water, enjoy longer casts, encounter lesser wind knots, and also enables ultralight anglers to experience better sink rates for smaller baits regardless of it being soft baits, jig heads or hard lures.
3 MAIN COLORS FOR 100M
Our 100m fishing line comes in three interesting colors:
Pink – 100m (2lbs with dia. 0.10mm)
Lime Green – 100m (4lbs with dia. 0.12mm)
White – 100m (6lbs with dia. 0.14mm)
3 MAIN COLORS FOR 300M
Our 300m fishing line comes in three interesting colors:
Orange – 300m (2lbs with dia. 0.10mm)
Army Green – 300m (4lbs with dia. 0.12mm)
Multi color – 300m (6lbs with dia. 0.14mm)
BEST FOR ALL ULTRALIGHT GAME
The line has been designed to suit the demands of all ultralight anglers but our main objective is for better visibility when angling, empowering you to control your soft baits and hard lures with enhanced efficiency.
Our lines are suitable for both spinning and bait casting due to its round shape. And most important you can use the line for both fresh water fishing and salt water fishing all day long without worrying on the quality.
HALUS's line construction ensures you will have superior connection strength and incredible abrasion resistance which will eliminate and reduce all your usual woes with fishing lines.
HALUS is the strongest, tough and most durable small diameter braid line currently available in the market. Our engineers designed it by using precision braiding and fiber technology that provides superior strength, roundness and consistency on the line.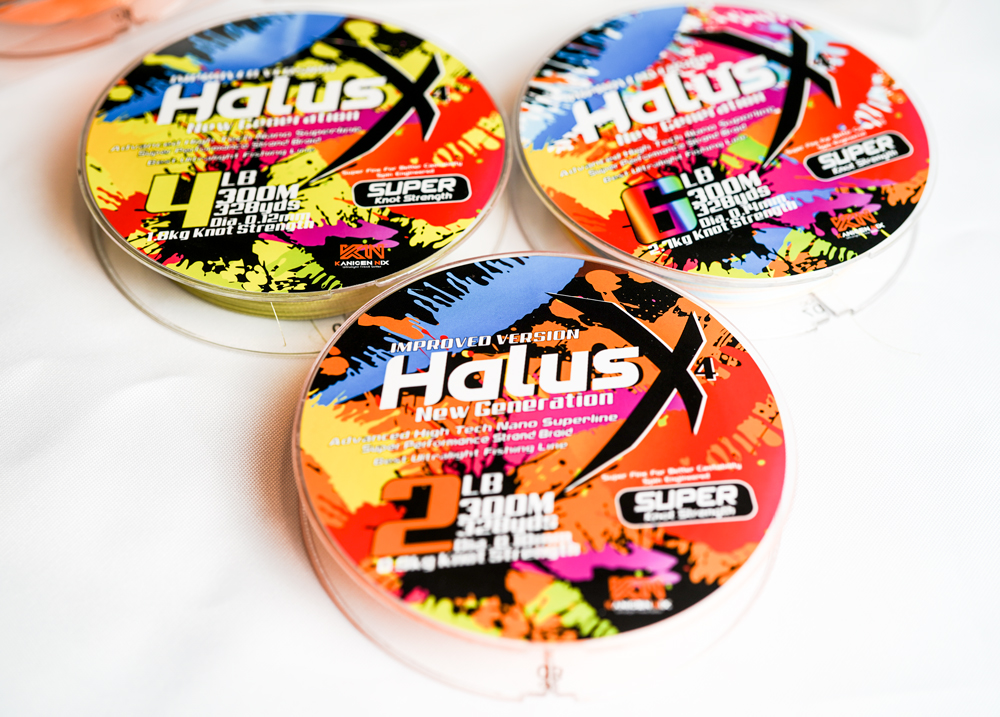 FEATURES
HALUS benefits are:
Small diameter increases capability of cutting water
Reducing friction for every cast
Our performance fibers improve abrasion resistance
Increase casting distance and accuracy
Reduce line vibration
The fibers provide high strength & sensitivity
Equipped with water-repellent protection
Protected with high-tech coating outside
Incredible resistant towards abrasion
Incredible corrosive resistant
Anti-UV
Anti-incision
Made of environmental friendly materials
Strong, durable and tough
Smoother lines
Best for both freshwater and saltwater fishing
ENHANCED

– HALUS BRAIDED FISHING LINES

There are few improvements which we have done based on the feedback given by our supporters. The enhancements we have made are:
Improved coating on the line.
Improved the packaging.
Improved the colors.
Improved few issues related to lines snapping.
So, why wait? Get HALUS the best ultralight fishing braided lines available in the market.
Don't just take our word for it, the following are testimonials from our customers:
https://www.facebook.com/kanicennixmalaysia/
Where to Buy
Please visit our Facebook page at: